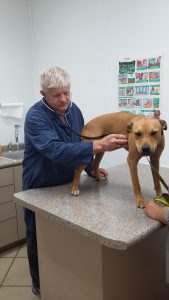 Since 2002, Animal Health Clinic of Dyersville has been dedicated to providing expert pet care services. We always strive for customer satisfaction with special attention and emergency services for both small and large animals. We take pride in offering treatment at affordable prices, and would love to treat your pet today!
Our goal is to deliver the best available veterinary care and to make all of our clients feel welcome and comfortable when they walk through our doors.
Our new care facility was built in 2010 and is equipped with state of the art animal health technology.
Our trained and friendly staff always strive to provide you with exceptional care and customer service. Whether you walk through our door or you give us a call, we promise we will give you and your companion the attention you deserve.
We pride ourselves always to educate our clients about possible options, helping them to make informed choices regarding their pet's health and wellness.
We also offer dog and cat boarding in our comfortable and spacious indoor and outdoor kennels. All our indoor kennels are equipped with a separate air filtration unit as well as air conditioning to keep your furry partner as comfortable as possible at their "home" away from home.
The whole team at the Animal Health Clinic is looking forward to welcoming you, and we hope we can become your trusted partner for your animal's health through all stages of life!