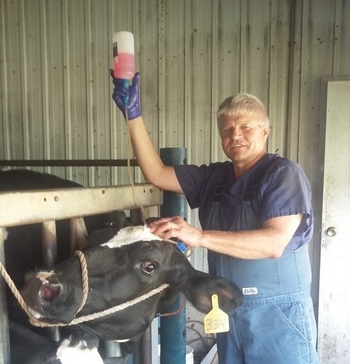 Virgil Bourek

OWNER/VETERINARIAN
Dr. Bex Weaver is a 2018 graduate of the University of Florida. She grew up in southern Maryland, and is a dual Canadian citizen. She received her Bachelors degree in Animal Science at the University of Florida in 2014. Dr. Bex especially enjoys working with cattle and pigs, but loves all animals with fur. In her free time she enjoys going to the gym, riding horses, and running with her dog. Dr. Bex enjoys everything agricultural, including the vast, never-ending corn fields. Her love of pigs is what lead her to Iowa, and she is very excited to be a part of the Animal Health Clinic. Dr. Bex lives in Dyersville with her Australian Cattle dog, Titus and her Ragdoll cat, Peep.
Dan Meyer
VETERINARIAN
Dr. Meyer is a graduate of the Iowa State University College of Veterinary Medicine. He also obtained his Bachelors degree in Animal Science from Iowa State in 2011. Dr. Meyer enjoys getting to work on all types of animals, and focused much of his study during veterinary school on production animal medicine. He especially enjoys the challenges that working on dairy cattle can present. In his free time, he enjoys farming with his family and attending cattle shows. Being able to come back to his hometown area and practice was a dream come true for him, and he appreciates the opportunity to give back to the community who played a part in helping him in his journey! Dr. Meyer and his wife reside in rural Dyersville with their son and family dog, Stella.
Our veterinarians take the utmost pride in caring for your pet and livestock needs, regardless of the situation.
With experience in both large and small animal medicine, we look forward to assisting you and your animals in your time of need.
Not only are we fortunate to have exceptional, caring veterinarians at our clinic, we have a support staff that helps keep the clinic running, on top of providing exceptional care to meet your needs!
Lisa Goedken – Office Manager
Cassey Cota – Veterinary Technician